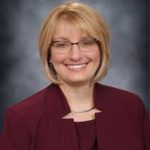 About Company
Dr. Christine Johns served as the superintendent in Utica, Mich., Community Schools for 14 years. She previously worked in the 108,000-student Baltimore County, Md., Public Schools, where she served as deputy superintendent for curriculum and instruction. Earlier Johns worked as assistant superintendent for instructional services in Pasadena, Calif., and as an elementary school principal and instructional specialist in Prince George's County, MD.
Dr. Johns has been recognized nationally for her innovation in the areas of instructional technology and early childhood instruction. Her work in personalized learning and implementing instructional programs to address the needs of historically marginalized students has also been hailed by College Board. Dr. Johns tripled the number of students taking advanced placement courses while dramatically increasing the number of students of color and students living in poverty taking and passing the exams. Dr. Johns served as a lead instructor and mentor for AASA's national superintendent certification program and the AASA/Howard University Urban Superintendents Academy.
A native of western Pennsylvania, Johns holds a Bachelor's degree the University of Pittsburgh, a Master's degree from Johns Hopkins University, and a Master's degree and a Doctorate in Educational Administration from Harvard University.