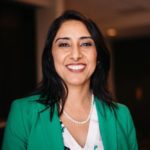 About Company
Dr. Anisha I. Jogee earned her doctoral degree in Organizational Change and Leadership from the University of Southern California, Rossier School of Education. She has a Bachelors and Masters Degrees in Education from the University of Illinois. She was a first-generation high school graduate.
Anisha has over 25 years of educational experience. Prior to consulting, Anisha was a district administrator and educator in Arlington Heights District 25, and Evanston District 65. She has served as an adjunct faculty member at National Louis and Northwestern University and currently serves as Board President of her local education district. Not only does she understand how schools function at the administrative level, she also considers the Board lens and the importance of Board – Administrative alignment.
Dr. Jogee currently serves as a Senior Consultant for HYA. Additionally, she supports clients from multinational corporations, health agencies, and nonprofits. She has served as a Director-at-Large for the Illinois Association of School Boards (IASB) and the Vice Chair of the High School District 214 Foundation Board of Trustees. Anisha was selected to the Public Leaders for Inclusion Council, and continues to be actively involved in the national initiative promoting pluralism and strength through diversity. Anisha has also launched non-profits and has served on professional and philanthropic boards including her role as Co-Founder and National Leader of WomenEd US, and a Founding Board Member of Viator House of Hospitality mentoring refugees and newcomers.
Anisha is called upon as a public speaker and has been invited as a conference keynote, panelist and presenter by institutions like the U.S. State Department, ISBE and the LEGO Foundation. As a change agent, she was honored with an invitation to the White House with other national leaders. Anisha operates with a global outlook having been raised in Malawi, Africa, and speaks five languages. She resides in the Chicagoland area with her husband and children. You can connect with her on social media and on twitter @GlobalAnisha
Leadership and Team Coaching
Board Governance Development
Strategic Planning
Equity-Focused Leadership
Superintendent Evaluation
Executive Searches
Diverse Recruitment/Outreach
Community Relations