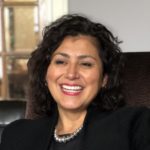 About Company
As a former Denver Public Schools board member who helped lead a superintendent search with HYA as a client, Lisa brings a unique perspective and set of insights to any superintendent search. She completed her board term in 2019 and joined HYA as a Search Associate in early 2021.
With a deep commitment to community service, Flores has spent the past 30 years of her career working in the nonprofit, local government, and philanthropic sectors. She has worked as executive director of a grassroots multi-generational community center and inner-city school; managed a statewide educational grant-making program for a large Colorado-based family foundation; served as senior mayoral staff in Denver; dedicated two years to Peace Corps service in Ecuador; and has contributed countless hours as a community volunteer.
As a Search Associate with HYA, Flores been gaining experience helping both small rural and large urban districts with their superintendent searches. She has quickly developed a reputation for "leaning in" during the community engagement process to ensure that the voices of traditionally marginalized stakeholders (including our students) are heard in the search process, and for searching "high and low" to ensure a diverse candidate pool.
University of California – Santa Cruz, BA American Studies
Regis University, Master's Degree in Nonprofit Management
Harvard Kennedy School of Government, Senior Executives in Local and State Government Program