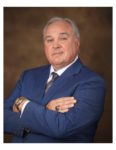 About Company
Dr. David Lee holds a doctorate in educational leadership from Louisiana State University and has over 35 years of experience driving change in organizations and providing the motivation that enables people to be better at what they do. He is an internationally recognized leadership and motivation expert, speaker, and author. He is currently an Associate Professor of School Leadership at The University of Southern Mississippi. He has experience as a teacher, principal, superintendent of schools, deputy state superintendent of education for the State of Louisiana, school board member, and trains some of the most successful leaders in the country.
His innovative and visionary leadership strategies have earned him national acclaim. He has been featured in the American School Board Journal for his one-of-a-kind alternative school. He has addressed all major professional organizations and is the author of three books, The Motivating Administrator, Run From The Nuts, and due to be released this fall, What Great Boards Do Differently.
Dr. Lee's research on school board behaviors is the most comprehensive research in the country. He has created the Center for Board Behavior Reform that provides training for school boards with the goal of changing board behaviors to enable them to be highly productive board members. His latest article in the American School Board Journal is, Ten Laws of Great Board Governance.
Mississippi State University, BS, Social Studies
Mississippi College, M.Ed. School Administration
Louisiana State University, Ed.D. Educational Leadership