HYA Product: Strategic Dashboard
Strategic Dashboards help tell your district's story and monitor progress of your initiatives and plans.
A K12 Strategic Dashboard serves as a central location to share details about your school district. Use it to share a strategic plan, communication plan, a superintendent transition plan, and so much more.
Measure what matters, and promote an evidence-based culture at your school district.
A strategic dashboard is a powerful tool for superintendents, school leaders, and boards of education to tell your story and track strategic indicators, improvement plans, and key priorities.
A well crafted Strategic Dashboard helps tell your story, define success, and monitor progress.
Scroll to see plan details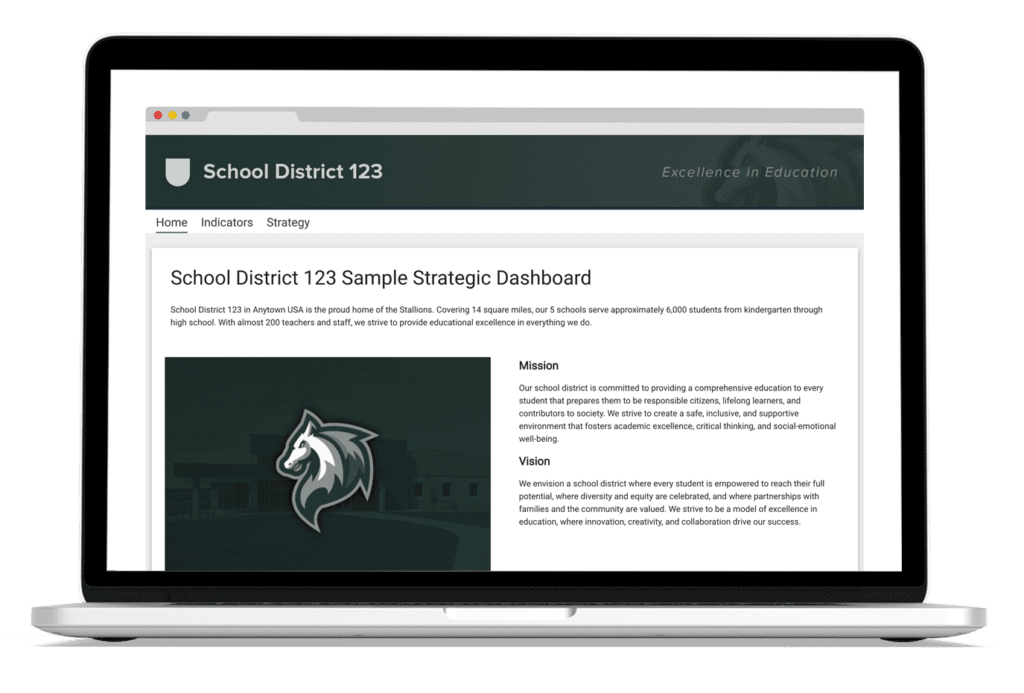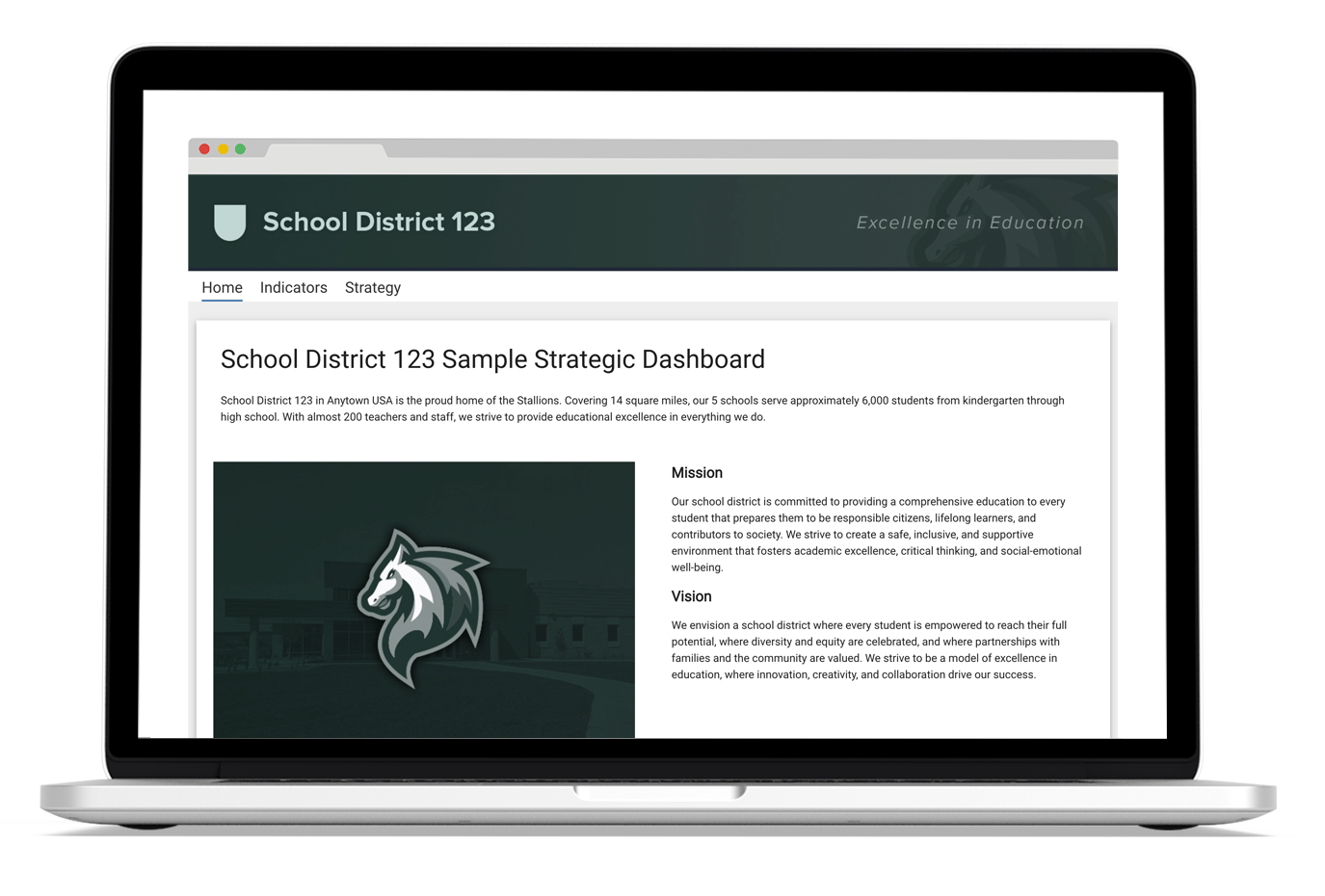 A Strategic Dashboard provides a customizable landing page allowing districts to introduce the dashboard and provide general district information. Districts can share videos, photos, text, and much more.
The indicators page on the Strategic Dashboard gives districts the ability to share meaningful data in a simple to use, categorized format. Dashboard members can click each tile to see additional details and historic data.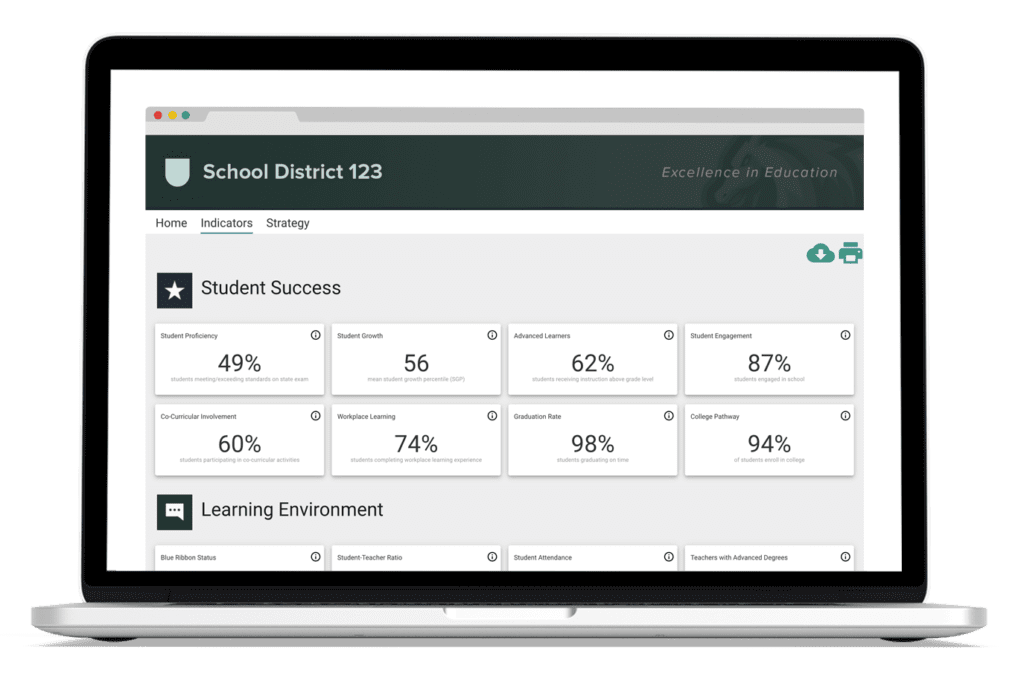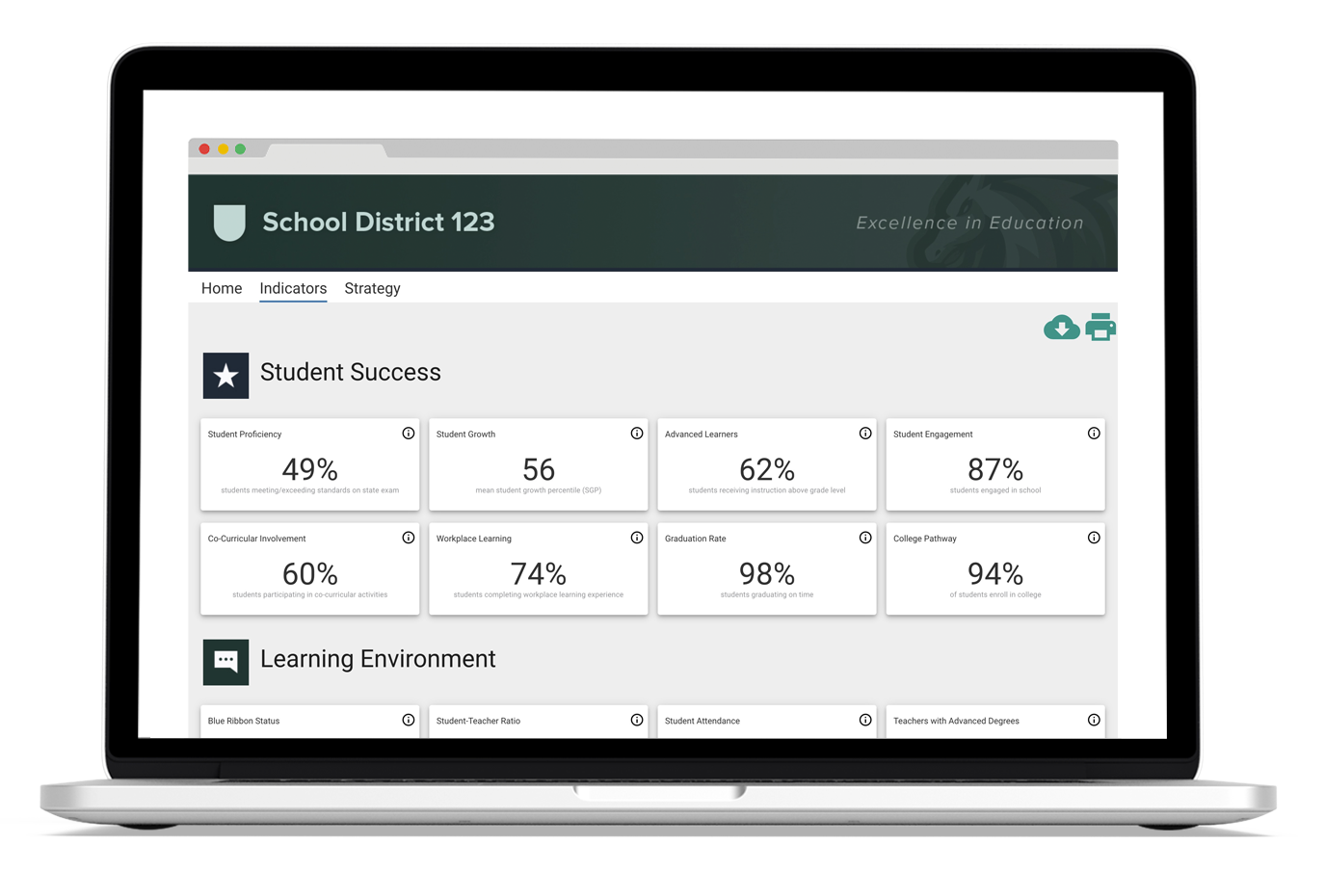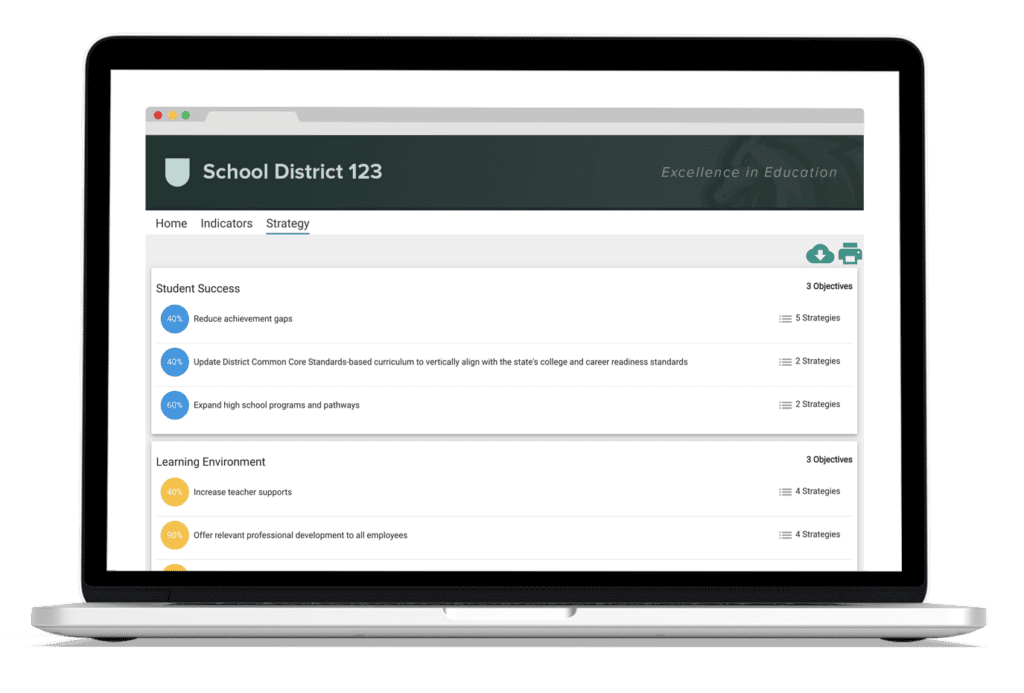 The strategy page on the Strategic Dashboard creates an opportunity for district leaders to share goals and keep community members aware of progress. Districts have the ability to share evidence of progress.
How can your district use a Strategic Dashboard?
A K12 Strategic Dashboard is a critical communication tool that promotes a culture of transparency and can help build trust with all stakeholders. Our Strategic Dashboard is built to share more than a school district's strategic plan. It's built exclusively for school districts to report on a multitude of key performance indicators and to share your district's vision. If your district has a plan or initiative, our dashboard will help communicate, measure, and monitor the progress and success.
Share, measure, track, and monitor your school district's strategic plan. A Strategic Dashboard is the simplest way to monitor progress of your plan.
If you've just hired a new superintendent, our dashboard will help communicate and document progress through this important leadership change.
A Strategic Dashboard can be used to share vital referendum information, communicate the need, and to track progress after a successful vote.
Proper district communications is the result of a well-crafted communication strategy. Communicate the plan with ease and track the results with a Strategic Dashboard.
District Improvement Plans
District leaders should be striving for continuous improvement. Monitor those efforts using a Strategic Dashboard.
With a new curriculum or program in place, use our Strategic Dashboard to communicate the new program and document learning results.
Other Uses at a School District
School Improvement Plan
General Data Communication
Financial Reporting and Planning
Track Yearly Superintendent Goals
Equity Plans
State of the District
District Program Monitoring
School Program Monitoring
Intervention Monitoring
Reporting State Assessments
Monitoring and Reporting Key Performance Indicators (KPI's)
Portrait of a Graduate (Vision)
Transparent Communication
Aligning District Goals to the Work Goals of the Cabinet and Principals
Human Resources Reporting and Monitoring
SEL Reporting

A Strategic Partnership With ECRA Group
HYA's K12 Strategic Dashboard is powered by ECRA Group. ECRA is the nation's foremost data and analytics solution for school districts. Through this partnership, HYA has developed pre-built templates on ECRA's Strategic Dashboard to support district level administrators and boards of education.
School Districts find a lot of benefits when creating a Strategic Dashboard. A dashboard is purpose built for school districts to communicate the correct information. It should also be easy to update. A Strategic Dashboard allows all community stakeholders to review accurate and up-to-date information, all in one place.
School districts choose to share a variety of information on a Strategic Dashboard. Most often, the content will be specific to the overall topic. As an example, if you are using it to share a Stratgic Plan for your district the dashboard will usually include a basic writeup sharing the mission and vision, data points your district has chosen to measure and document, and a list of actionable strategies the district is taking to accomplish the strategic plan.
A Strategic Dashboard is a tool that provides district leaders the ability to monitor results and communicate progress. A Strategic Dashboard can be used in a variety of contexts. Above, on this same page, you can view some examples of how Strategic Dashboards can be used with examples of the type of content a school district might want to add.
The Strategic Dashboard that HYA provides is priced based on the size of the district and the specific needs. Please feel free to connect with us so we can learn about your district and provide you with a quote.