HYA for Boards and Administrators: Strategic Planning
Strategic Plans create a clear and compelling vision for student success.
I am hard pressed to think of any organization that has sustained some measure of greatness in the absence of goals, values, and missions that become deeply shared throughout the organization.
A strategic plan helps move your district closer to the realization of your optimal future.
Plans live or die in  implementation. Research suggests that  90% of organizations fail to successfully implement thier strategies. HYA's model supports administrators as they develop, implement, and monitor the living strategic plan.
Strategic Planning Process
Articulate and document the organization's reason for being, its aspirations, core beliefs and philosophies.
Mission, Vision, & Guiding Principles
Research and synthesize the current state of reality in the context of the mission and vision.
Board of Education and Administration
Operationalize the District's mission and vision into general intentions that reflect the desired future position of the organization.
Determine leverage points and strategies necessary to accomplish the goals while staying true to the mission and values.
Delineate specific steps and timelines necessary to implement each of the objectives.
Strategies & Implementation Plan
Develop the information systems necessary to monitor adherence to tactics and action plans.
When is it time to update your district's strategic plan?
Learn how Laurens County School District 55 in South Carolina made adjustments to their strategic plan with community involvement and after reviewing district data.
Strategic plans are the unifying wrapper for all goal setting.
When the collective efforts and energy of an entire school system is focused on the strategic plan, the goals are realized and the culture transformed. Learn how this happened in RSD17.
"The intimate knowledge our facilitators had of our district, made the training that much more effective."
Tess Arthur
Carmel Unified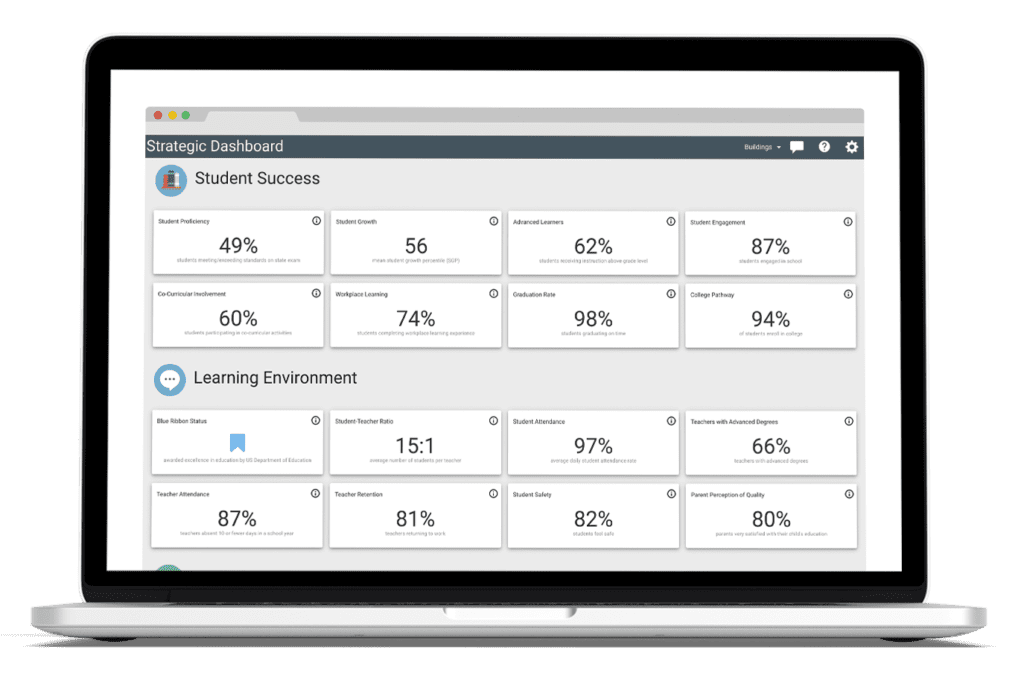 HYA offers districts a comprehensive online Strategic Dashboard solution.
A strategic dashboard is a powerful tool for superintendents and boards of education to tell their school district's story and track strategic indicators and priorities.
Introduce the district's mission and vision in a multimedia format.
Measure progress towards the district's vision through key performance indicators and benchmarks.
Monitor implementation of goals and objectives and provide transparency to the board and community regarding progress.
HYA has been trusted by hundreds of districts, across the nation, to help with a variety of needs.
Strategic Planning Resources
Strategic Planning Insights
HYA Associate, Dr. Shawn Joseph, recently published a case study titled "Swimming Against the Current: Resistance to a Black Superintendent's
Read Post
Updating a strategic plan isn't exclusive to the end of the plan period. There are multiple reasons to update a
Read Post
Where does a District focus their efforts when there are no obvious leverage points? School districts of all sizes and
Read Post
A typical strategic planning process runs the course of one full school year.
The key components of a strategic plan include:
Community engagement/stakeholder satisfaction
Environmental scan
Mission, vision, and guiding principles
Three to five strategic goals
Strategies (objectives) necessary to accomplish the goals
Implementation/action plan
HYA facilitates the implement and evaluate phase, including the updating of key performance indicators, for the remaining years of the plan. We provide on going support and help update metrics.