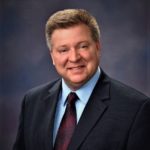 About Company
John Bash has dedicated his leadership career to building systems of support so that every student can succeed.  As a superintendent in Washington State, his district developed a wide range of new community partnerships resulting in expanded family resource centers in each school, new housing for homeless families, improved attendance rates, and an on-time high school graduation rate over 90% (2019).
His district leadership experience includes service in large urban diverse communities, small rural schools, and suburban mid-sized districts.  His broad scope of experience includes administrative oversight of all instructional operations/programs as well as non-instructional operations, including financial management and school construction.
John served as a Board Member for the Washington Association of School Administrators from 2017-2021 and has been a member of Rotary, multiple Chambers of Commerce, and multiple non-profit groups in the communities he has served.  He has received multiple community service awards, local and regional recognition for his community partnership work, and instructional leadership awards for achievement in student learning and teacher/principal evaluation leadership.
John's executive experience includes superintendent searches, strategic planning, executive mentoring/coaching, school improvement planning, community relations, and school board function.
John is committed to a high standard of customer service and works to ensure every client is heard, involved, informed, and respected throughout the consulting process.  He is pleased to provide references to prospective clients upon request.