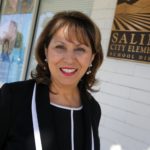 About Company
MARTHA L. MARTINEZ is a passionate educator who exhibits a relentless drive for public education, retired as Superintendent of Salinas City Elementary School District in June 2020 and was recently appointed Co-Executive Director of the California Association of Latino Superintendents and Administrators.
With over 25 years of administrative experience at site, district and county levels, she started her educational career in Gilroy Unified School District (GUSD) as a paraprofessional to become elementary teacher, principal and district office administrator. Her administrative experience includes Assistant Superintendent of Curriculum & Instruction (NMCUSD), Director of District & School Leadership Services and Categorical/Special Projects Director (GUSD& SCCOE).
Martha is Past President of California Association of Latino Superintendents (CALSA) and is a Founding Member of the Latino Family Fund Foundation. She has received numerous awards for her contributions to educational leadership and proud to have received ACSA Superintendent of Year Award for Region 10 in 2019 as well as CALSA Superintendent of Year for Region 4 in 2020. She served on the Community Alliance for Safety & Peace Board of Directors, California Collaborative of Educational Excellence Advisory Board, CSUMB Teacher Advisory Council, Monterey County Task Force for Safe Routes to Schools, San Jose State University Education Advisory Board and ACSA Region 10 Board of Directors. Currently, Martha is a Steering Partner for Monterey County Bright Futures and Board Member for Monterey Bay Aquarium Board and the Monterey County Food Bank. Martha received a M.A in Organizational Leadership from University of San Francisco and B.A. in Child Development from San Jose State University.