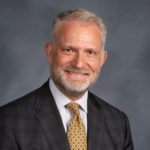 About Company
Dr. Mike Pressler has over forty years of experience as a teacher and administrator with expertise in strategic planning, implementation, and maintaining and modifying structures and programs that support a culture of continuous improvement to meet the needs of students, staff, and community stakeholders. Most recently, he served as an administrator for thirty years in Maine Township HS District 207 at Maine East and Maine South High Schools. He earned a Doctor of Education in Educational Leadership from National-Louis University, Master of Science in Music Education from University of Illinois, and Bachelor of Music from Fort Hays State University. 
As a building principal, Mike's collaborative approach empowered a teacher leadership model supporting the work of Professional Learning Communities (PLC), Diversity / Equity / Inclusion (DEI) structures including Restorative Practices, Social Emotional Learning (SEL) routines, and a Career Pathways / Internship program integrated with a rich offering of Dual Credit, Advanced Placement, and Elective course offerings. He has extensive experience in Curriculum and Instruction with a strong focus on instructional methodology including development of Multi-Tiered Systems of Support (MTSS / RtI / PBIS) with a focus on building-wide professional development to establish consistency in Tier 1 Student Expectations, Tier 1 Instructional Routines, Assessment Literacy, Academic Vocabulary, Tier 2 & 3 Academic and Behavioral Supports, and Restorative Practices to address address student behaviors. Mike also worked at Maine East to promote a focus on Diversity / Equity / Inclusion (DEI) for staff and students to better address the Social Emotional Learning (SEL) strengths and needs of the school's diverse student body. From a management perspective, Mike has extensive experience in recruiting, hiring, supporting and evaluating teaching, administrative, and support staff along with practical experience in Human Resources management. He has managed budgets including federal grants and led in the development and implementation of hybrid and block schedules, provided leadership for the successful passage of a $195M bond referendum to support renovations/improvements to Maine East/South/West, and led stakeholder teams related to all aspects of school governance including being a member of the Superintendent's Cabinet.
Mike has presented at the local, state, and national level and has held membership in multiple professional organizations. He is a Trustee for the Maine Township High School Education Foundation, and is member of the Community Advisory Board for the Maine Township District 207 School Based Health Center. Additionally, Mike served on the Board of Directors of the Illinois Music Education Association and also as President of the 5000-member professional organization. In 2020, Mike was recognized by the Illinois Principals Association as Principal of the Year for the North Cook Region. He was also awarded the Community Hero Award for Service to the Youth of District 207 and an Administrative Merit Award from Ill Education.