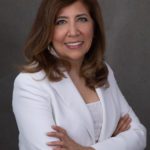 Susan Zahra Guiney, Ed.D.
About Company
Dr. Susan Guiney holds a doctorate in Leadership from Columbia University and has over 35 years of experience working with high achieving school districts in the field of education. She successfully served as the Superintendent of the Mount Pleasant CSD for 10 years prior to her retirement into the private sector as a leadership consultant to individuals and organizations and to serve as an HYA Associate.
Dr. Guiney is passionate about learning and leadership. Throughout her career, which encompasses classroom and administrative experiences both in public and private schools, Dr. Guiney continues as a proponent of integrating leading edge brain research into pedagogical practices, learner centered environments and cultures, and the development of knowledge ecosystems, particularly in learning organizations. Dr. Guiney was named a Woman of Distinction by the New York State Senate and has received numerous accolades for her work. She serves on the Educational Advisory Board for STEER for Student Athletes in Westchester County. Dr. Guiney is an accomplished author, speaker and expert in the field.
As an HYA Associate, Dr. Susan Guiney has been part of executive searches in the New York Metropolitan area, particularly in Westchester County and on Long Island.
Fordham University, BA English and Medieval Studies
Fordham University, MA English
Iona University, Professional Diploma Educational Administration
Queens College CUNY – MLS Information Science and Technology
Columbia University, Teachers College, EdD Leadership