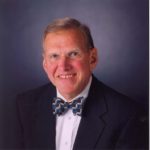 About Company
Dr. Ted Blaesing is a leader in education administration and has been recognized for his leadership and service through numerous awards. He has led dozens of workshops and seminars for school boards and school administrators. In addition he has conducted over 30 education leadership searches across the United States. He has 19 years of experience as a superintendent in White Bear Lake, Minnesota and Beloit, Wisconsin. He also served as the Associate Superintendent in the Davenport, Iowa schools. He began his education career as a teacher and coach in his hometown of Muscatine, Iowa and as secondary school principal in Olin, Iowa.
He has taught numerous graduate courses most recently at the University of Minnesota.
An avid runner he also enjoys fishing at the family cabin in northern Minnesota and time on the water near his home in Cape Coral, Florida.
University of Northern Iowa, B.A. Physical Education

University of Northern Iowa, M.A. Physical Education and Health

University of Iowa, Ph.D. Education Administration, School Finance emphasis