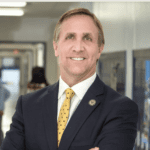 Timothy J. Steinhauer, Ed.D.
About Company
Dr. Timothy Steinhauer holds a doctorate in educational administration from the Pennsylvania State University. With over 35 years of experience in education, Dr. Steinhauer is a highly regarded teacher, coach, presenter, consultant, and facilitator. Most recently, he completed 14 years as superintendent in the acclaimed Mt. Lebanon School District in suburban Pittsburgh.
Dr. Steinhauer's experience extends beyond three of Pennsylvania's top-performing school districts. He has served as an Examiner and Head of School with the International Baccalaureate Organization and as a Board of Examiners member for the National Institute of Standards and Technology Malcolm Baldrige Quality Award. He received the Tri-State Area School Study Council's Distinguished Educator of the Year award (2020) and The Pennsylvania State University's William E. Caldwell Award for Excellence in Administration and Supervision (2017).
Notably, Dr. Steinhauer's expertise and advocacy for mindfulness have led to groundbreaking initiatives that have profoundly enriched the lives of countless students, educators, and school leaders.