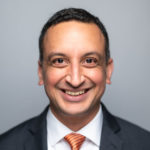 About Company
Prem Aithal has over 22 years of business experience, which included 17 years with a Fortune 50 healthcare company, where he most recently served as a Senior Financial and Planning Director in the Financial Strategy area of the Commercial Business Division, managing 14 states in the Individual Segment. He has vast experience in accounting, auditing, finance, market analysis, and most notably, strategic planning. He is known as a high-energy and passionate collaborator, an adept forecaster, and one to call when one needs assistance in solving a complex problem. Prem has a Bachelor's and Master's Degree of Science in Accounting at Babson College and the University of Connecticut, respectively, along with a CPA.
In recent years, Prem has become heavily involved in his community, namely local government and education. Prem served on his town's Economic Development Commission for five years, most recently as Vice Chair, where he worked to help create and volunteer at a vibrant Farmer's Market that operates weekly for the greater part of the summer. He was elected to the Regional School District #17 Board of Education (serving Haddam & Killingworth, CT) in July 2020 and within a couple of months, the Board relied on his strategic planning and business experience and appointed him chair of the new Strategic Planning Subcommittee (which he continues to serve). Prem led efforts to create the Vision of the Graduate (approved 3/2021) and the District's first strategic plan (Board-approved in 5/2022). The high energy Prem got from facilitating this process helped him determine he was ready for a career change, and he decided to become an HYA associate to apply his talents in a more meaningful and rewarding area, education. Prem really enjoys the HYA process – engaging with stakeholders through interviews and focus groups, analyzing large volumes of data and synthesizing into key focus areas, and collaborating with school districts, all with unique challenges, on the formulation of goals and objectives for the future and implementation plans.
Prem is currently the lead HYA associate on The Sherman School Strategic Planning engagement (Sherman, CT) and is also on the strategic planning engagement for the Ashland School District (Ashland, MA).

Babson College, B.S. of Science in Accounting
University of Connecticut, M.S. of Science in Accounting