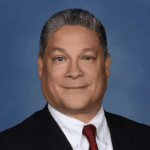 About Company
Dr. Victor M. Torres is a seasoned education professional with an extensive career spanning over two decades in K-12 and Higher Education. With a particular focus on disadvantaged districts in Southern California, Dr. Torres has made a significant impact through his various teaching and executive-level leadership roles. His diverse expertise includes positions such as secondary school teacher, Dean of Students, Intervention Coordinator, Elementary Assistant Principal, Elementary Principal, Director of Human Resources, and Assistant Superintendent of Human Resources. In addition, he previously taught as an Adjunct Professor for California State University, Northridge, where he taught school finance.
Beyond his formal roles, Dr. Torres has been deeply involved in educational governance and policy-making. He severed an eight-year tenure as a School Board Member for Castaic USD, including two terms as Board President; he further contributed to the education landscape as a Board of Directors of the California School Board Association (CSBA), including severing as the Vice-Chair of the CSBA Finance Committee and CSBA Audit Committee. His influence extended to the California Association of Latino Superintendents and Administrators (CALSA), where he served on the Board of Directors for five years. He also served as a member of the Association of California School Administrators (ACSA) and the California Association of Bilingual Educators (CABE).
Before joining HYA, Dr. Torres worked in the Los Angeles Unified School District, Palmdale School District, Fillmore Unified School District, Santa Paula Unified School District, Oxnard School District, and Westminster School District. He also held various management positions in Corporate America, where he served as a Senior Finance Executive at NBC Universal and was responsible for orchestrating a $500 million annual cash operations department for NBC Universal's recreation division. His strategic financial acumen encompassed budgeting, financial planning, financial reporting, audit coordination, and implementing internal controls and accountability policies. In addition to his private sector experience, he is a retired Oakland Police Officer and a United States Marine Corps veteran.
University of Phoenix, BS in Business Administration
Golden Gate University, MBA in Finance
California State University, Northridge, MA Education Administration
California State University, Northridge, Ed.D. Educational Leadership & Policy